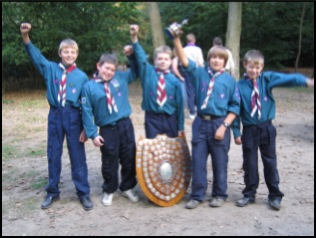 Welcome
Welcome to the website of the 1st Ickenham Scout Group. We provide stimulating and fun activities for young people of all backgrounds aged 6-14 in the heart of Ickenham.

For information on joining please contact our Group Scout Leader John Arnold on
gsl@1stickenhamscouts.org.uk
. For general enquiries about the group please contact our Chairman Barry Wapling
tel: 01895 630106 or
barry.wapling@blueyonder.co.uk
.
See left for other contact details.
For more information on Scouting go to
www.scouts.org.uk
You can also contact The Scout Association on 0845 300 1818
.
News:
• 1st Ickenham Jumble Sales: Next Sale - Saturday 4 October

Thanks to the many who came along to our Spring 2014 Jumble Sale recently and all the volunteers who helped out. We raised hundreds of pounds for group funds to be used towards much-needed equipment and the cost of camps and running activities. Our next Jumble Sale is scheduled for Saturday 4 October at 10 am. Small admission fee applies. For more information please contact Jumble Sale Organiser Margarita Lewis at
jumble@1stickenhamscouts.org.uk
.


• Diary Date: 1st Ickenham Scouts Firework Spectacular Nov 2014

The hugely popular 1st Ickenham's annual Fireworks Spectacular is a great occasion for the whole family with 1,000 people attending last year. It offers a superb fireworks display set to pop and classical music, plus hot and cold snacks and drinks available. It's a geat family occasion and one not to miss. Check back here for more details. To help sell tickets and raise money for your own community group this year get in touch with our Group Scout Leader John Arnold here
Contact Us
.
• Looking for a spacious, well-maintained venue for your event or function?

We let our headquarters building - one of the largest community halls in Ickenham - to local groups and individuals for functions, regular meetings and parties at affordable rates. Parents with children in the group may qualify for discounts on our normal rates. For details click on the "Find Us and Lettings" button to the left. Terms and Conditions apply.

• Join the Adventure

Want to be an eager Beaver, a cool Cub or sensational Scout? Contact our Group Scout Leader. See the 'Contact Us' Page for details of how to get in touch and for more details of our packs.
Beavers (ages 6 to 8) meet on Saturday morning, Cubs (ages 8 to 10.5) on Monday evening and Scouts (ages 10.5 to 14) on Friday evening.