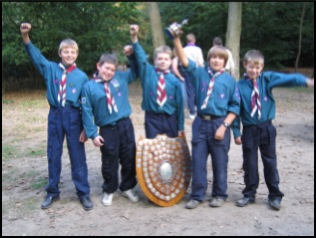 Welcome
Welcome to the website of the 1st Ickenham Scout Group. We provide stimulating and fun activities for young people of all backgrounds aged 6-14 in the heart of Ickenham.

For information on joining contact Group Scout Leader John Arnold on
gsl@1stickenhamscouts.org.uk
. For general enquiries contact Chairman Barry Wapling
tel: 01895 630106 or
barry.wapling@blueyonder.co.uk
.
See left for other contact details.
For more information on Scouting go to
www.scouts.org.uk
or contact The Scout Association on 0845 300 1818
.
Group News:
• 1st Ickenham Scouts Firework Spectacular: Sunday 2 November 2014 - Tickets available now!
UPDATE 12 NOON SAT 1 NOV:
A LIMITED NUMBER OF TICKETS IS STILL AVAILABLE SUBJECT TO AVAILABILITY. TO ORDER, JUST TEXT YOUR NAME AND PHONE NUMBER TO
07977 886681
AND COLLECT YOUR TICKETS AT THE GATE ON SUNDAY EVENING.
Our hugely popular 1st Ickenham Scout's Annual Fireworks Spectacular is a great occasion for the whole family with 1,000 people attending last year. It offers a superb fireworks display set to pop and classical music. Hot and cold snacks and drinks are available and the show lasts approximately 30 minutes.
The fireworks will be at PACCAR Scout Camp, Chalfont Heights, Denham Lane, Chalfont St Peter (just a 10 minute drive from Ickenham). Gates will be open at 6pm for a 7pm start. Tickets are £5 each or a pack of 5 for £20 (equivalent to just £4 each). Note that tickets must be purchased in advance. NB: For the Fireworks venue drivers should ignore their satnavs and approach Denham Lane from Chalfont and not Denham as the road is very narrow in that direction.
• 1st Ickenham Jumble Sales: Next Sale - Saturday 4 October

Thanks to the many who came to our October 2014 Jumble Sale. We raised hundreds of pounds to be used towards much-needed equipment and the cost of camps and running activities. Our next Jumble Sale is scheduled for early Spring 2015. For more information please contact Jumble Sale Organiser Margarita Lewis at
jumble@1stickenhamscouts.org.uk
.


• Looking for a spacious, well-maintained venue for your event?

We let our headquarters building - one of the largest community halls in Ickenham - to local groups and individuals for functions, regular meetings and parties at affordable rates. Parents with children in the group may qualify for discounts. For details click on the "Find Us and Lettings" button to the left. Terms and Conditions apply.

• Join the Adventure

Want to be an eager Beaver, a cool Cub or sensational Scout? Contact our Group Scout Leader. See the 'Contact Us' Page for details.
Beavers (ages 6 to 8) meet on Saturday morning, Cubs (ages 8 to 10.5) on Monday evening and Scouts (ages 10.5 to 14) on Friday evening.