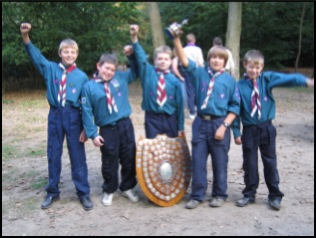 Welcome
Welcome to the website of the 1st Ickenham Scout Group. We provide stimulating and fun activities for young people of all backgrounds aged 6-14 in the heart of Ickenham.
For information on joining contact Group Scout Leader John Arnold on
gsl@1stickenhamscouts.org.uk
. For general enquiries contact Chairman Barry Wapling
tel: 01895 630106 or
barry.wapling@blueyonder.co.uk
.
See left for other contact details.
For more information on Scouting go to
www.scouts.org.uk
or contact The Scout Association on 0845 300 1818
.
Group News:
• 1st Ickenham Jumble Sale: Saturday 3 Oct 2015, 10 am sharp
Bag a bargain at our popular jumble sale. We're renowned for our wide range of items, great prices and friendly service. You'll find everything from clothes and fashion to children's toys, electrical items, books, games, hardware, posh bric a brac, collectables, crockery and much more. All the profits benefit our Beavers, Cubs and Scouts, raising money for tents, camping equipment and running costs. Admission 50p. For more information please contact Jumble Sale Organiser Margarita Lewis at
jumble@1stickenhamscouts.org.uk
or
barry.wapling@blueyonder.co.uk
.
• Looking for a spacious, well-maintained venue for your event?
We let our headquarters building - one of the largest community halls in Ickenham - to local groups and individuals for functions, regular meetings and parties at affordable rates. Parents with children in the group may qualify for discounts. For details click on the "Find Us and Lettings" button to the left. Terms and Conditions apply.
• Join the Adventure
Want to be an eager Beaver, a cool Cub or a sensational Scout? Contact our Group Scout Leader. See the 'Contact Us' Page for details.
Beavers (ages 6 to 8) meet on Saturday morning, Cubs (ages 8 to 10.5) on Monday evening and Scouts (ages 10.5 to 14) on Friday evening.