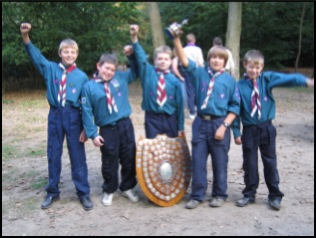 Welcome
Welcome to 1st Ickenham Scout Group. We provide stimulating, adventurous and fun activities for young people from 6-14 in the heart of Ickenham.
For more information on joining contact Group Scout Leader John Arnold on
gsl@1stickenhamscouts.org.uk
. For general enquiries contact Chairman Stephen Hurst
tel: 07792 480837 . See left for other contact details.

For more information on Scouting go to www.scouts.org.uk or contact The Scout Association on 0845 300 1818

.





Group News:




• Join the Adventure


Want to be an eager Beaver, a cool Cub or a sensational Scout? Contact our Group Scout Leader. See the 'Contact Us' Page for details.
Beavers (ages 6 to 8) meet on Saturday morning, Cubs (ages 8 to 10.5) on Monday evening and Scouts (ages 10.5 to 14) on Friday evening.